The model 54010 Rialco Flood Alarm is a self contained electronic device, powered by an a standard 9 volt battery that is included with the package, that sounds a loud, high pitched alarm when it's adjustable sensor comes into contact with water.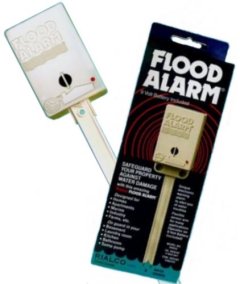 This 9v flood alarm unit features a red LED that flashes every 30 seconds indicating that the unit is operational. If the LED stops flashing, or you hear a short beep from the flood alarm, you need to replace the battery. Typical battery life is over one year. Installation in a damp or high temperature location may shorten battery life.
The Sensor Arm is flexible providing for a wide range of fixed or portable installations. Sensor arms are available in 11", 3', 5', 10' and 20' lengths.

PRACTICAL NOTES ABOUT OUR FLOOD ALARM:
Mainline 4963 Backwater Valves have a clear top so a visual inspection would reveal if the gate is in the Open (normal) or Closed (protecting you because the sewer system is overloaded) position.
You would probably develop the habit of taking a look during extremely heavy rains or periods of heavy snow-melt that you expected might overwhelm your municipal sewer system.
This portable 9v flood alarm does not work directly in conjunction with (does not in any way connect to) the backwater valve. It is basically an "after the fact" device that indicates, depending upon the location in your basement, that flooding has already or is about to occur.
In a "normally dry basement" scenario, the Flood Alarm's Water Sensor is placed contacting, or almost contacting, the floor near the lowest drain in your basement. If water ever rises a from that drain and touches the contacts within the Water Sensor, the alarm sounds.
In this example, the only way the alarm would sound would be when a properly function valve is in the closed position protecting you and water from within your home was sent down the drain. It would be unable to escape because the backwater valve was closed keeping hundreds or thousands of gallons of nasty foreign sewage out of your basement. This much smaller amount of waste water from within your own home would set off the alarm and alert you not to use water.
There are also numerous other applications for the Flood Alarm as shown in the photos to the left.
---
The Rialco 9V Flood Alarm is specially designed to monitor homes and commercial properties to alert you to overflows, leaks or water trouble. It has an endless number of uses and can save thousands of dollars in water damage.
Made of high quality materials and reliable construction methods, the alarm operates on a 9-volt battery (included) to sound the 96 decibel horn when the end of the sensor arm contacts water.
The flood alarm comes equipped with a low battery warning and a power indicating LED.

The flood alarm's flexible sensor arm can bend and reach into small and awkward spaces. It can also be bent to hold any shape and be self-supporting. With an included bracket and screws for easy installation, it can be used portably, or in a fixed position. Sensor arms are available in 11" and 3, 5, 10 and 20 foot lengths.
Manufactured of heavy gauge ABS plastic and the components are screwed (not snapped) together.
The Rialco Portable Flood Alarm was designed with two uses in mind: it can help you monitor water levels and help to prevent floods.
---
Monitoring Water Levels
The Rialco portable Flood Alarm will let you know when your bathtub reaches the fill level you want.
The audible horn can be heard throughout the home. It makes an excellent device for the elderly and caregivers.
Many companies rely on the Rialco flood alarm system to monitor tanks and bulk storage. Some of the users include photo development labs, landscapers, pools & spa companies, aquarium operators, etc.
Flood Prevention
A Rialco Flood Alarm hanging over your laundry tub can alert you to a clogged drain before the water ends up on your floor.
Installing a Rialco Flood Alarm in your sump pit is a reliable way to ensure your sump pump is working.
You can place a Rialco Flood Alarm next to your water heater's overflow valve.