Inspection Chamber; Mainline Adapt-A-Valve Inspection Chamber
Mainline "IC"; the 4" Adapt-A-Valve Inspection Chamber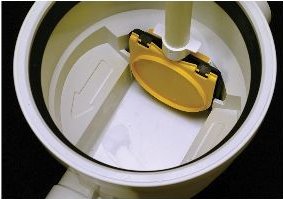 *The Adapt-A-Valve Inspection Chamber is based upon the proven Mainline Adapt-A-Valve cassette and receiver system which is now integrated into the Inspection Chamber.
* This system allows for the use of the removable and re-insertable Pressure Test Gate (PZ-4-TZ), Normally Open Cassette (PA4CassNO) or Normally Closed Cassette (PA4CassNC).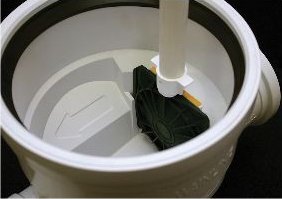 * All Cassettes are easily installed for use or removed for inspection and cleaning from any depth with the extension handle (cut to length on site from a piece of 3/4" PVC pipe) eliminating the need for special tooling.
* Mainline Adapt-A-Valve cassettes feature a revolutionary lightweight gate that offers next-to-no flow restriction. the double-hinged gate design keeps the backflow gate aligned for a perfect O-Ring seal.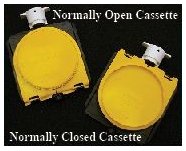 * IC Features Include. . .
* The Adapt-A-Valve Inspection Chamber is constructed to SDR 26 heavy wall sewer specifications which gives it more strength and stability.
* A reflective sticker in the valve body serves as a guide for easy cassette or test gate installation.
* An improved gasket system features heavier gaskets that allow for easy insertion.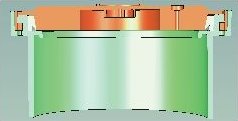 * Redesigned lids are air tight which allows main line and lateral testing without the use of inflatable test balls. The lid locks with the turn of a locking bolt and pressure can be confirmed with the vent port.
* The Inspection Chamber design includes a stabilization sleeve that allows the use if 1/2" pipe or re-bar to aid in stabilizing the Inspection Chamber during the backfill process.

#############################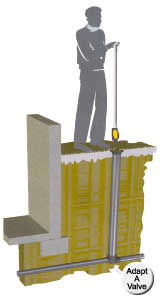 Recommended Brand: Mainline Adapt a valve backwater valves Models:
ML-4XA (4" ABS), ML-4XP (4" PVC)
With widespread record rainfall across the nation, and with widespread development that over-burdens the capacity of municipal sanitary sewer systems, basement flooding is occurring at record levels. Many officials are urging homeowners to install backflow valves and are changing new construction code requirements to incorporate backflow valves in sewer lines between the home and street.
Our "Fullport Backwater Valves" are designed to be installed on the inside of a home or building in the basement floor. In some installations, predominantly when the home is build on a concrete slab or above a crawlspace, it is not possible to install a backflow prevention valve on the inside of the building. The Mainline "Adapt-A-Valve" is designed as an economical valve to be installed outdoors in the ground. (see drawing at right)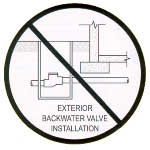 A key point in using our Adapt-A-Valve is that it DOES NOT require the installation of an expensive underground vault. This is accomplished by the innovative use of a removable gate cassette.
The adapt a valve is installed in the main sewer line between your home and the street, and a piece of standard DWV (Drain Waste Vent) pipe is cut to length to reach the surface. A standard DWV cap is attached to allow access to the removable gate cassette below. (Note: extra DWV pipe & cap is not included, but is always available at your local home center or supply.)


A piece of 3/4" PVC is also cut to length and a 3/4" PVC tee is attached to the top end of this pipe to act as a "tee handle". The bottom end of this pipe is attached to the removable gate cassette. This unique feature allows the gate to easily be removed for cleaning, or in the event the drains need to be snaked, without any digging. (Note: extra PVC pipe & tee not included, but is always available at your local home center or supply.)

All of the listed components (cassette + extension adapter, backwater gate, air gate component, extension body + extension collar and cleanout lid) have been approved by the Universal Plumbing Code and IAPMO.
Additionally, depending upon the nature of your specific installation (consult your local plumbing contractor and plumbing code), the adapta valve may be used in a "normally closed" or optional "normally open" configuration.
IMPORTANT NOTE: Pipe end-to-end, the Adapt-A-Valve takes up 6" of run in your line. The outlet is 1-1/2" LOWER than the inlet, so in just 6", the level of the pipe at the outlet side now needs to be 1-1/2" lower. Depending upon the amount of slope in your line (2% minimum is required for proper operation), you may need to replace from 8 to 10 feet of pipe downstream from the valve to average out this "loss" of 1-1/2" of fall.
Optional Normally-Open BWV configuration -

Installed with gate in horizontal position
Air-Gate floats gate to closed position on Reversal Flow
( 4" ONLY - Requires part #PA4CassNO)
No flow restriction
Air-flow not restricted
Self-cleaning action
O-ring seal
Normally-Closed BWV configuration

Installed with gate in hanging position
Light weight gate construction
No Air-Gate
Double hinge design