Backwater Valves
Recommended Brand: Mainline Fullport Backwater Valves Model # 4963 A (ABS) and Model # 4963 P (PVC)
As unsettled weather patterns continue to drop unprecedented amounts of precipitation on widespread regions of the United States, officials urge homeowners to consider installing backflow valves.
According to the Department of Homeland Security's Federal Emergency Management Agency (FEMA)*, flooding can sometimes cause sewage from sanitary sewer lines to back up into houses through drainpipes. These backups not only cause damage that is difficult and costly to repair, but they also create health hazards.
A good way to protect against sewage backups is to install backflow valves, which are designed to block flow into the house.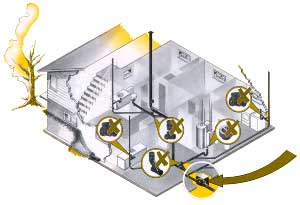 Valves vary in complexity, tightness of their seals and ease of operation. For example, gate valves are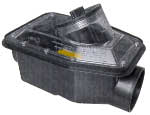 generally complex and require you to be there at the time of crisis to operate them by hand, but they supply a very tight seal. Flap or check valves, which allow flow out of the house and close automatically when flow reverses, are simpler. Our award-winning Mainline check-valve design offers an exceptionally tight seal when compared to a gate valve and still requires periodic testing, but they protect you automatically, even if you are not at home!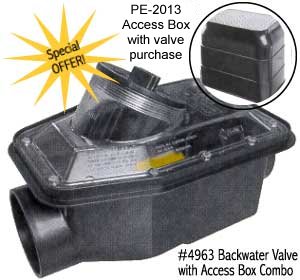 Many municipal Building Codes require you to have a backwater valve if your plumbing fixtures are below the top of the first upstream manhole on your street. A properly operating backwater valve allows flow to only go in one direction (out), preventing wastewater from entering your building during regular sewer system maintenance or accidental sewer system backups. To find out if you have or need a backwater valve, check your plumbing plans or consult with your builder or a professional plumber. Remember, if sewage backs up into your home, the cost to repair damages and clean up the mess will be well higher than the cost to install a valve. Laws allow that towns and municipalities cannot be held liable for damages when a backwater valve has not been installed by a property owner. Truly, "an ounce of prevention is worth a pound of cure!"
The following should be kept in mind when installing backflow valves:
Local codes and ordinances regarding backflow valves must be carefully checked to avoid having to tear out and replace with an approved valve.

Changes to home plumbing must be done by licensed plumbers or contractors, who will ensure that the work is done correctly and according to all applicable codes. Costs are likely to range from a few to several hundred dollars.

Some valves incorporate the advantages of both gate and flap valves into a single design. Plumbers and contractors can provide advice on the relative advantages and disadvantages of the various types of backflow valves.

Valves should be installed on all pipes that leave the house or that are connected to equipment that is below the potential flood level. So valves may be needed on washing machine drain lines, laundry sinks, fuel oil lines, rain downspouts, and sump pumps, as well as sewer/septic connections.

Sump pumps are sometimes connected to underground drain lines, which may be difficult to seal off.

ACCESS BOX NOTES: The Access Box is intended to be used as an access opening for the Mainline Fullport Backwater Valve Model # 4963 and may be used for other access applications (example: cleanouts, irrigation etc.). The overall width of the open base of the black PE 2013 Access Box is 14-7/8" X 20" and steps down to 11-1/8" X 14-7/8" at the top of its 16" height. The removable gray high density polyethylene (plastic) top access panel is 10-7/8" X 14-1/2". The access box top is held in place by two 1/4" Plastic Push Fasteners.

IMPORTANT NOTE: Pipe end-to-end, the Backwater Valve takes up 12" of run in your line. The outlet is 3/4" LOWER than the inlet, so in 12", the level of the pipe at the outlet side now needs to be 3/4" lower. Depending upon the amount of slope in your line (2% minimum is required for proper operation), you may need to replace several feet of pipe downstream from the valve to average out this "loss" of 3/4" of fall.
*On March 1, 2003, FEMA became part of the U.S. Department of Homeland Security. FEMA's continuing mission within the new department is to lead the effort to prepare the nation for all hazards and effectively manage federal response and recovery efforts following any national incident. FEMA also initiates proactive mitigation activities, trains first responders, and manages the National Flood Insurance Program and the U.S. Fire Administration.